Shelf Awareness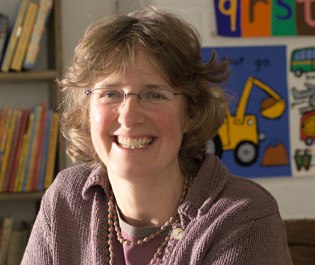 Giving the right book to a child at the right time can convert him or her into a lifelong reader. We put together a list of what we believe could well be those books. For families with a preschooler, Maisy is a household name. This year, Create with Maisy: A Maisy Arts-and-Crafts Book by Lucy Cousins (reviewed below) presents safe, age-appropriate project ideas just right for youngest children to make and give to others.
We sat down with Lucy Cousins when she visited the U.S. recently from her home in Britain. How does she hit her target time after time, yet keep her Maisy books so fresh? For one thing, she explained, she works out the colors and where things will be on the page ahead of time, so that when she draws, it looks and feels spontaneous. She believes this approach apes the attitude of her young audience: "The way children think and do things are spontaneous," Cousins said. She uses pure Pantone colors (straight out of the tube) for her artwork: "The simplicity of those colors and their combinations work," she explained. "It's not about subtlety--it's about immediacy." Cousins also worked on the storyboards and scripts for the Maisy TV series and noted that they did all 104 episodes "in one shot." It takes 7,000-8,000 drawings to make just five minutes of animation.
Cousins studied graphic design in college, and her background has served her well. In addition to writing and illustrating her books, she also designs the type and the pages. "I love being able to do a whole book. It's really satisfying," said the author-artist. For Create with Maisy, Cousins tried to make the crafts look as if Maisy had done them. "I want people to feel like, 'I could do that!' " --

Jennifer M. Brown

, children's editor, Shelf Awareness
Create with Maisy: A Maisy Arts-and-Crafts Book




Who better to guide children on a creative adventure than Maisy, early childhood's most colorful mouse?

Cousins pulls off something that is very difficult--presenting enticing projects in a way that appeals both to pre-reading browsers (bright colors, great photography, bold graphics) and to the adults that have to pull the project together (clear directions, simple tools, not too messy, stuff we have at home). After an opening note to parents, the book invites young readers right in. "Maisy loves making things... You can make things too." With a range of traditional art activities, nature crafts, construction, pretend play and a mix of projects sure to appeal to both girls and boys, this book will supplant many fancier books for its sheer flexibility and dependable content.

From the first ("Beady Butterfly") to the last ("Colorful Cookies"), every one of this book's 17 projects pops with age-appropriate possibility. --Kristen McLean, former head of the Association of Booksellers for Children, founder & CEO of

Bookigee

Discover:

A first book of crafts tailor-made for preschoolers, with clear instructions and photos, using stuff you already have.