Children's laureate Julia Donaldson happy with BBC version of her book, which largely eschews tricks that have made Peter Jackson's Hobbit film controversi
al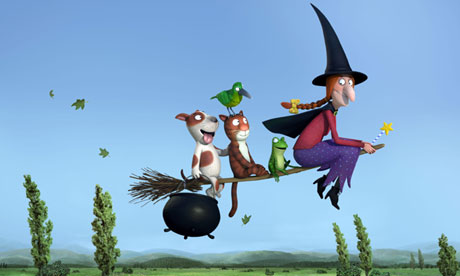 When your leading characters are a witch, a broomstick and a jealous cat, it might seem odd to be worried about "keeping it real", but children's laureate Julia Donaldson and the creators of Room on the Broom, the BBC's specially commissioned Christmas Day film, were determined to do just that.
The half-hour animation of Donaldson's beloved picture book has now earned her the coveted after-lunch slot on BBC1 for the third time, making The Gruffalo author a seasonal institution. But whatever the age of her intended audience, or the improbability of the plot, the need to conjure up a convincing fantasy world was paramount, she said, in an age when Hobbit-style technical innovation can overwhelm the viewer.
"What is so lovely about the film is the way they have kept true to the story and the look of the book," Donaldson told the Observer. "My books are poems really and to my mind are a fixed entity."
The acclaimed author's view echoes criticism from The Snowman's creator, Raymond Briggs, last week about the detrimental impact of too many computer-generated images in films. He has endorsed a new animated sequel, The Snowman and The Snowdog, because it uses the minimum of computer effects.
The argument gained still more force with fresh complaints about the evident special effects in the Peter Jackson film of The Hobbit.
Full article