Penguin won't be reviving much-loved children's magazine that has struggled to stay relevant and cost-effective in internet era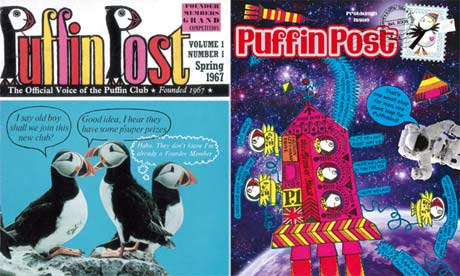 Launched in 1967 by Kaye Webb, the legendary editor of Puffin Books, the magazine has boasted contributions from some of the most acclaimed names in children's literature, from Alan Garner and Roald Dahl to Joan Aiken, Leon Garfield and Spike Milligan. A mix of stories, jokes, interviews, competitions and quizzes, the magazine was also packed with reader contributions, and by the end of its first year Puffin Post had 16,000 members. At its height, this reached more than 200,000 readers, who would greet each other with the secret code: "Sniffup", which required the response: "Spotera" ("Puffins are tops", backwards).
"The Puffin Club was very exciting for me as a child. It was in the days when children didn't get mail, so to get a magazine through the post was very exciting. And it was very interactive in the days before websites. You could send in jokes, finish a story, write something original, do a drawing, you could join in as much or as little as you wanted to, as well as find out about authors – how they worked, what their houses were like."
The Grubtown Tales author said he had been "very excited" when the magazine returned in 2009, and added: "I really do hope that Penguin revive it. It still has little stubby Puffin legs and Puffin wings."
"Puffin Post is a really expensive way of getting to consumers, and you don't need it if you've got a lot of online support."