Will Self's ninth novel, Umbrella, is his most ambitious yet. In the week it was longlisted for the Booker prize, the author asked us into the organised chaos of his attic to discuss why he likes writing as a woman, his potentially fatal blood disorder, and why he has no time for Alan Hollinghurst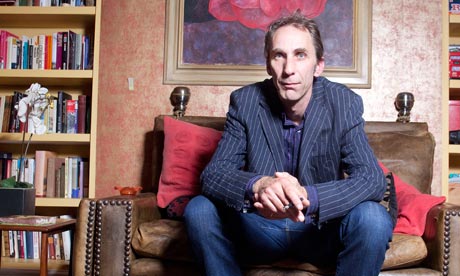 Will Self
greets me on his doorstep, trailing a small child and an even smaller dog. It could be, of course, that their smallness is accentuated by Self's impressive height: at 6ft 5in, he moves with the languid grace of a man accustomed to folding himself into constrained spaces. "Oh, sorry, you were meant to have been let in," he says in a lugubrious monotone, clear blue eyes flicking this way and that. He speaks without smiling and yet you get the sense that he is perpetually on the brink of making some brilliant joke, comprehensible only to himself. Self opens the front door and ushers me inside. "Go on up," he says, nodding towards the staircase. "You'll know which room is mine."
There are three storeys to the tastefully decorated Georgian townhouse in Stockwell, south London that Self shares with his wife, the journalist
Deborah Orr
, and their children – Ivan, 14, and Luther, 10. The walls are painted in muted aubergines and greys; books line the shelves and everything is orderly without being twee.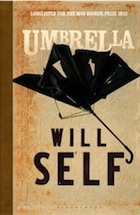 Self's study, by contrast, is a resolutely untidy attic room exploding with paper. The walls are smothered with a complex mosaic of overlapping yellow Post-It notes. Every spare inch is covered with Blu-Tacked scraps: drawings by Self's children, images of unknown Edwardians taken from Ancestry.com, and – in one easily overlooked corner – an advertisement for sanitary towels from a turn-of-the-century magazine.
It is, perhaps, not surprising that Self should need to work in a state of such organised chaos. His latest novel,
Umbrella
, is a dazzling feat of imagination and structure: a sprawling, lyrical, stream-of-consciousness narrative that squares up to modernism and brings it kicking and screaming into the 21st century (the title is taken from a James Joyce quotation: "A brother is as easily forgotten as an umbrella").
The book is stomach-lurchingly ambitious in scope, spanning 92 years and examining the social legacy of the first world war, anti-psychiatry, the relativity of madness and the impact of technology on the human body.
Full piece at The Observer