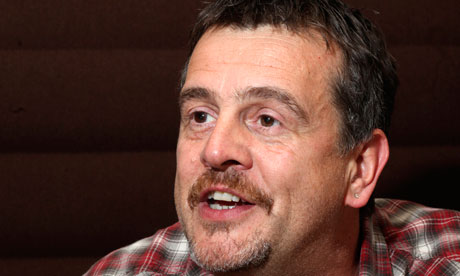 It was said that you could track the upward trajectory of the late Douglas Adams's career by how quickly his jokes changed from laughing at the absurdities of having no money to laughing at the absurdities of having lunch with his accountants. That Mark Billingham's latest novel,
Rush of Blood
, is partly set in the Florida resort town where he has owned a holiday home for the last few years is likewise testament to the success of a career that has previously been associated with the up-close study of the meaner streets of London. "But I now do know that part of Florida pretty well," Billingham explains. "And as I've always believed that location is a character, it seemed a natural thing to do. When I began to write I was surprised at how little London had been used in crime fiction. Places such as Edinburgh or Oxford or LA seemed to have stronger identities. Part of the reason why Scandinavian crime has been so popular is the landscape. It is just so strong and alien. Although without taking anything away, you should probably also never discount the fact that blood does look
particularly
good against snow."
Since moving from acting and stand-up comedy to crime writing with his 2001 debut
Sleepyhead
, Billingham has written 11 novels, which have met with both commercial and critical success. An increasingly prominent figure in the crime-writing world, he was this year's chair of the annual gathering of the clans at the Harrogate crime festival, and was the first writer to win the Theakston's best crime novel of the year prize twice; his DI Tom Thorne has been portrayed on TV by David Morrissey. He says that, from the beginning, the Thorne books were about his often troubled detective's relationship with an often troubled city.
"There is all the wonderful tourist stuff, but it is also a city of ghosts and of contrasts. It's ludicrously expensive, filthy and crime ridden, but when you stand on Waterloo Bridge and look up and down the river … it's almost impossible not to have a love-hate relationship with the place. And while there's pretty much a webcam for everywhere these days, it's just not the same as actually recceing a location. I once needed to set a scene on the muddy bit at the side of the Thames. I might, just, have seen the dead dog blown up like a space hopper next to the beautiful heron on some internet site, but to get that smell I had to go there. It all adds richness to your writing, and I hope that local knowledge works just as well for Florida as for London."
Thorne does have a fleeting cameo in
Rush of Blood
, but Billingham's second standalone book primarily features three British couples who meet on a Florida holiday. A local child is murdered just before they return home, and when they meet up again in the UK for supper and an exchange of holiday snaps their relationships seem to have subtly changed. "The idea came from a friend who did one of those classic post-holiday dinners and realised that things were instantly different. The guy who they had liked on holiday appeared slightly sleazier than they remembered. When they went back for a reciprocal dinner this other couple had copied everything about my friends' home: the rugs, things on the walls, even a dress that his wife had worn. He said it was as if they were trying to steal their lives. They ended up having to sever all communications and change email addresses. As a crime writer you take something like that, which is quite spooky to begin with, and see just how dark you can take it."
Full story at The Guardian