Is Fifty Shades of Grey really the UK's best-selling book? See how it compares to the top 100 best-sellers of all time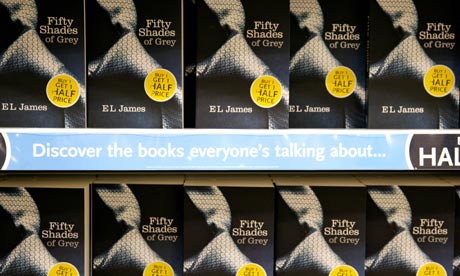 Fifty Shades of Grey
is Britain's best-selling book ever -
according to the publishers at least
- but how does it compare?
Publisher Cornerstone (part of Random House) announced this week that the erotic novel has sold in excess of 5.3m copies in print and ebook – more than
The Highway Code
or
Dan Brown
's
The Da Vinci Code
.
The book has remained in the top slot in the UK bestseller lists for the 16th week running. The second and third books, Fifty Shades Darker and Fifty Shades Freed, are also selling fast, with UK sales of 3.6m and 3.2m respectively. Combined UK sales for the trilogy are in excess of 12m copies, with rights to the book sold around the world and published in languages including Albanian, Chinese, Russian, Serbian and Vietnamese.
But is it right? Proving sales across platforms independently is very difficult as there are so many outlets.
Nielsen Bookscan
, which collects the retail sales information from point of sale systems in more than 31,500 bookshops around the world, does not provide collated sales across e-books and physical books, which means we' are reliant on publishers.
So, bearing that in mind, Nielsen have given us their top 100 list of all-time Uk book sales. It shows volumes of each book, its publisher and genre. So, how does Fifty Shades compare?
It's not top on this list: that's got Dan Brown's
Da Vinci Code
at number one, followed by the
Harry Potter
novels.
First thing to say is that the
Highway Code
dominates everything - but because it has been around for so long it artificially jumps near the top of the list with the many versions since 1998 selling over 4.8m copies. So we've removed it from this list although it's easy to compare.
But considering the
Fifty Shades
books have only just been published, they are already a powerful force.
Fifty Shades
itself has sold 3,758,936 copies, with the two follow-ups,
Fifty Shades Darker
and
Fifty Shades Freed
selling over two million copies each. This is how the big series compare: